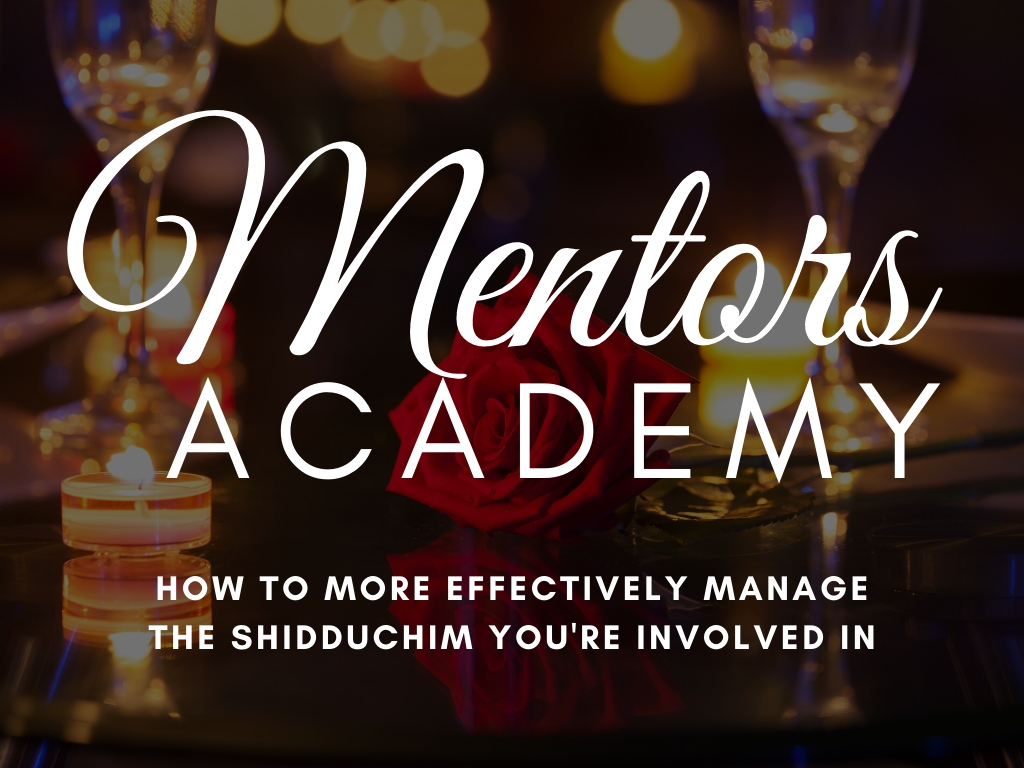 Mentors Academy is the gold-standard course for taking your dating coaching and shadchan training to the next level.
Over the past decade working with hundreds of singles, it has come to my attention that some of the people most dedicated to helping singles find their soulmate, the dating coaches and shadchanim, are lacking in resources available to them to support their efforts.
So many hours are invested in helping singles navigate the often overwhelming process of dating… but there's no one helping the dating coaches and shadchanim.
Whether you're an experienced dating coach looking to hone your business skills, gain more clients and further your education, or you're a new shadchan looking to more effectively help singles manage their dating experiences, learn to communicate better and give them the tools they need to gain clarify in their relationships, Mentors Academy is for you.
This program is designed for the person who wants start their own business (or already has one), is considering (or already) working for a non profit, or for someone who simply wants more knowledge and information to help others in the shidduch world as a coach and/or shadchan.
Mentors Academy will teach you the ins and outs of dating, relationships and business.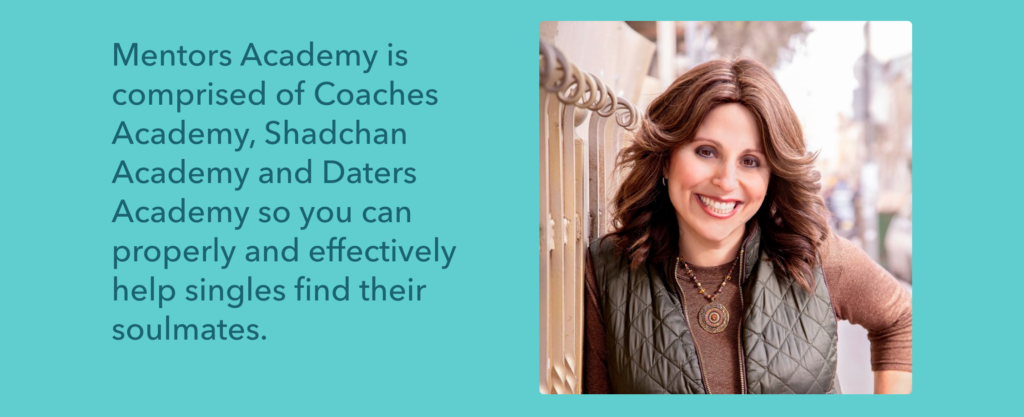 Coaches Academy
Discover the tools you need to help singles navigate the dating process with Coaches Academy.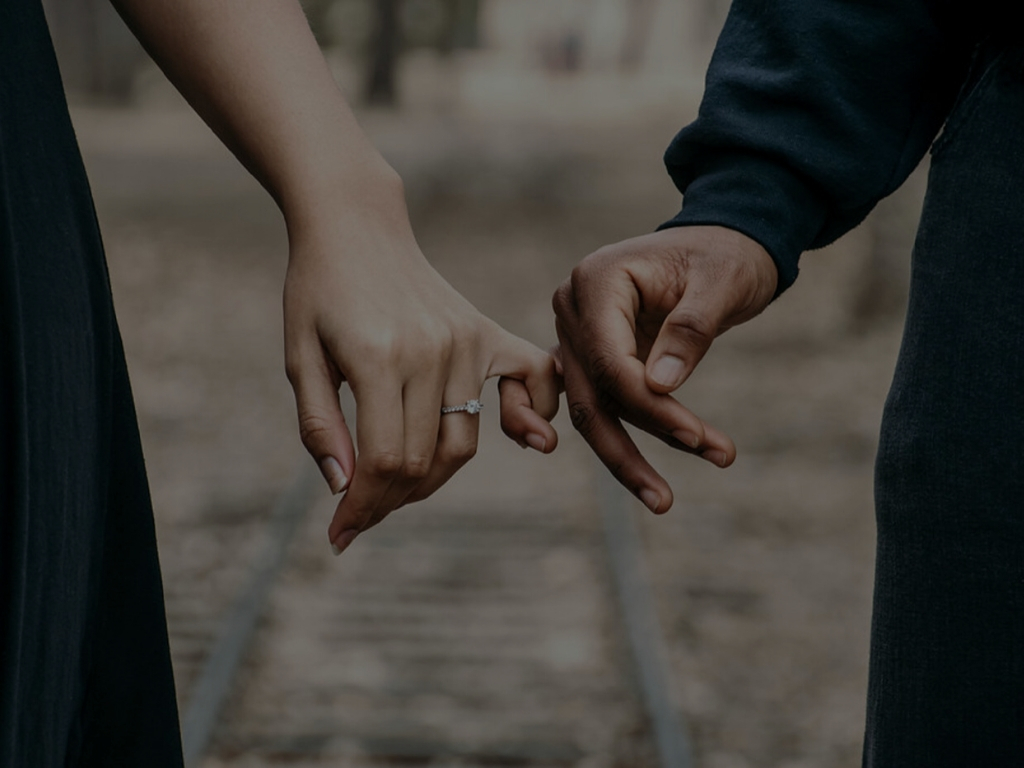 You will receive:
– 18 Recorded classes (45-60 mins each) that help you gain confidence and wisdom to be a great mentor, coach or matchmaker and help you to help others.
– One hour of 1-on-1 mentoring with Aleeza to answer your questions and personally guide you to being your best.
– A pdf workbook to guide you through the training and homework to help you critically think through how you are going to work with singles. The weekly assignments will take you between 20-30 minutes to complete and are sent in via Google form.
– A Coaches Academy graduate certificate upon completing the course.
Course Curriculum:
1. Intro into being a mentor.
2. All about men.
3. The who, what, where, when and why of getting clients and working this as a business.
4. All about women.
5. Your mentoring style, curriculum and what to talk about.
6. The mechanics of mentoring and more curriculum.
7. Navigating the mentoring relationship.
8. Having confidence in who you are and what you do.
9. The value of time: How to make the most of your work.
10. A-Z of running a business, non profit or chessed opportunity.
11. Start with the end in mind. What are your goals?
12. A solid and ever-developing understanding of love.
13. You get more done by listening than talking.
14. Communication is essential. It's your responsibility to consistently connect to your clients.
15. How to identify someone's personality and who they match with.
16. Have a plan for both your yearly and daily goals and work.
17. Consistent effort is what will gain you the most credibility and leverage in your work.
18. Best business practices. How to go from where you are to where you want to be.
Shadchan Academy
Learn how to more effectively manage the shidduchim you are involved in with Shadchan Academy.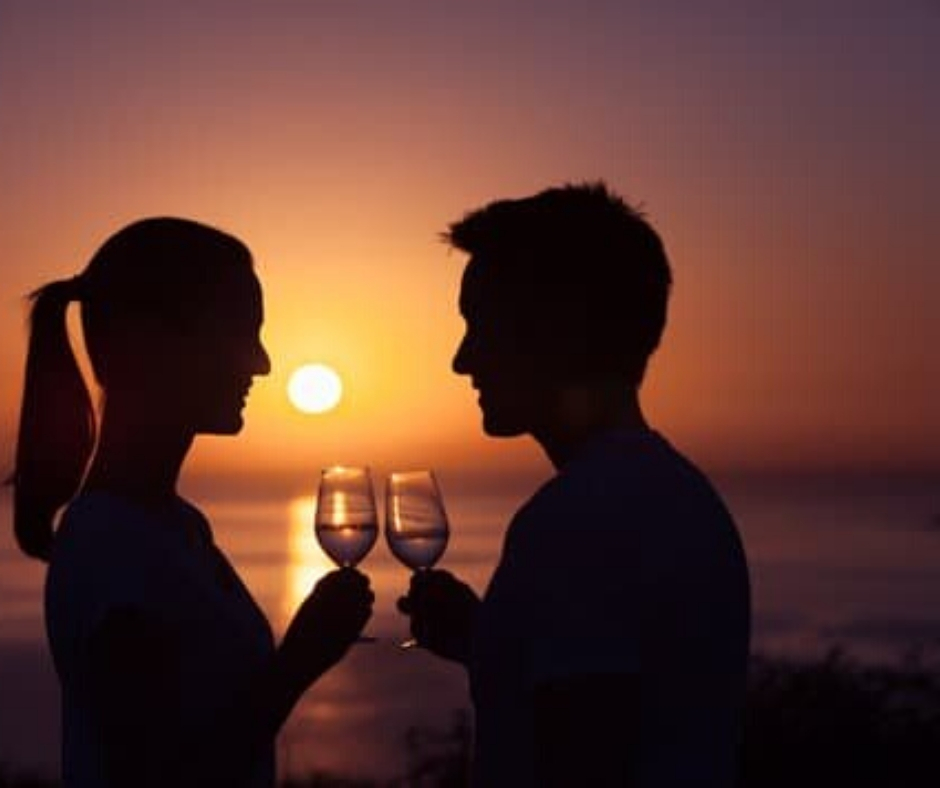 You will receive:
– 12 Recorded classes that will help you gain confidence and wisdom to be a great mentor, coach or matchmaker and help you to help others.
– One hour of 1-on-1 mentoring with Aleeza to answer your questions and personally guide you to being your best.
– A pdf workbook to guide you through the training and a weekly accountability check-in via Google form.
– A Shadchan Academy graduate certificate upon completing the course.
Course Curriculum:
1. How to really listen attentively to singles and how to respect their understanding of themselves and validate their needs.
2. How to help a couple communicate better and work out their differences together.
3. How to determine whether a concern is due to anxiety or is a genuine dealbreaker and how to reassure when it's not a dealbreaker.
4. How to prepare younger singles for dating by helping them to be relaxed, personable, and comfortable on the date.
5. Helping to navigate a shidduch from the beginning of dating to date six.
6. How to help a couple build a healthy, meaningful connection through the final trimester and beyond.
7. How to help those who "need more time" develop a strategy to gain reassurance on each date.
8. How to lower the dater's internal pressure and cope with external pressures, and how a shadchan can smooth things over when parents, the client, or their perspective spouse says something damaging that has the potential to ruin a shidduch.
9. How to help the cerebral dater transition from their head to their heart so they can invest emotionally and move further along without necessarily knowing yet if they will marry this person.
10. How to help singles grow from dating experiences and how to help older singles find meaning in their lives so that they can be personable, confident, and enjoyable people to date.
11. How to help daters eventually transition from "critical" – Dating Mode – to "acceptance" – Commitment Mode.
12. How to help motivate older singles to shed their complacency with their current status quo and really strive to leave their lonely cocoon.
Daters Academy
The tools singles need to reclaim their confidence and attract quality dates.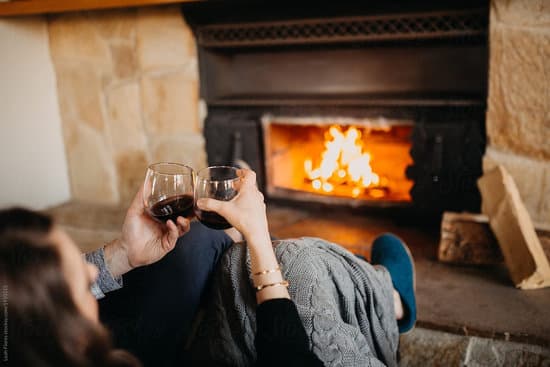 You will receive:
– Access to all five courses in Daters Academy, an online program for singles, so that you can gain insight into how Aleeza coaches her clients, and share some of these tools with the singles you're working with.
1. The Perfect Profile: Be the one with the dating profile that stands out from the crowd.
2. Soulmate Summary: Confidently answer what you're looking for to anyone, anywhere, anytime.
3. Online Overhaul: Portray who you really are to attract who you really want.
4. Mystery In Your History: Discover a potential date from your past even when you think there's no one there.
5. Plus1 Perspective: Four step to scoring a quality date.
Sign Up for Mentors Academy Now
FAQs
Q How much is Mentors Academy?
Daters Academy is a one time fee of $1800.
This price includes unlimited access to both Coaches Academy and Shadchan Academy, as well as a bonus Daters Academy.
Q When do I need to complete the courses by?
You have unlimited access to the courses, so you are your own timekeeper. We recommend completing one lesson per week (audio + worksheet + homework), but it's totally ok if you go through them more quickly, or you take your time with them.
You will be able to come back and review the courses whenever you'd like.
Your one time fee of $1800 allows for unlimited access once you join Mentors Academy.
Q Is there a specific order to the courses?
The short answer is yes and no.
The longer answer is like this: It's totally up to you whether you begin with Coaches Academy or Shadchan Academy, but we highly recommend that you complete the lessons in the order that they are set.
If there is a particular issue that you're currently experiencing and you feel that jumping ahead will help you, by all means, do that. But just know that there is rhyme and reason to the order of the lessons.
Q Do you have an affiliate program?
Yes, we do!
If you are really happy with your Mentors Academy experience and have some friends that you believe would love it too, we'd like to reward you for sharing this awesomeness with them.
Just shoot us an email at coach@marriagemindedmentor.com to request your own unique affiliate link which you can then share with your friends.
Because we appreciate you taking the time to let your friends know about us, we will send you a 10% commission of every person who signs up through you!
Q Have a question we didn't address?
No problem. Just send us an email at coach@marriagemindedmentor.com and we will do our best to get back to you within 24 hours.
Sign Up for Mentors Academy Now