What you think isn't what you thought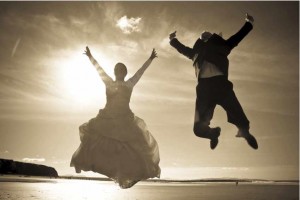 How is it that we have one thought one day and
the very next day we have a different thought
altogether? One day we imagine our dream wedding
with the person we're dating and the next day we
can't possibly imagine spending another moment
in their presence. Are we unstable? Which thought
is real? How can we know our own minds when they're
constantly in a state of flux?
These questions come up, especially in dating. You
are considering the biggest decision of your life.
Any moment you may say, 'There is no other in the
world that I want. This is it. I am not going to
change my thinking, YOU ARE THE ONE!' But life isn't
about final decisions. Marriage is about continuing
to bring consciousness to your thoughts. What happens
when our mind loses sight of the understanding of
oneness between a husband and a wife? In a second
our thinking can go from we to me…or any number
of other things. Creating distance between ourselves
and our soulmate only takes a thought. Notice your
thoughts, your thought patterns. What if you didn't
hold onto them, what if you let new ones come? I
wonder what you would think…