Local Matchmakers Serve Love Games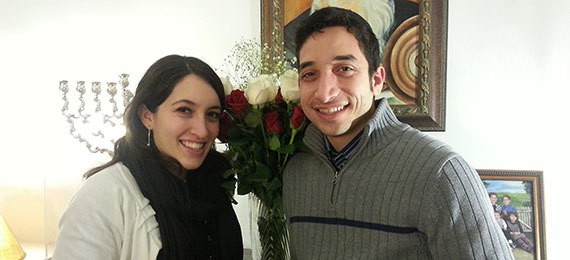 Original content written for JewishExponent.com
When William Shakespeare wrote "The course of true love never did run smooth," he obviously didn't realize it would have helped to have a Jewish matchmaker in A Midsummer Night's Dream.
For as long as there have been Jews, there have been shidduchs. But the tradition — famously enacted in Broadway's Fiddler on the Roof, celebrating its 50th anniversary this year — is experiencing a resurgence as a way of avoiding the pitfalls of online dating or just waiting for Mr. or Ms. Right to happen along. Once considered the provenance of Orthodox Jews, matchmaking is now also regarded as a proactive path to romance for those who identify as Conservative, Reform or just culturally Jewish.
In Philadelphia, at least two women are making a business out of their penchant for matchmaking. Both started their companies within the past two years, going through separate classes of the Tribe 12 Fellowship, an incubator program for young entrepreneurs that is funded in part by the Jewish Federation of Greater Philadelphia.
Aleeza Ben Shalom and Addie Lewis Klein are far from the Fiddler image of elderly yentes in babushkas. While they draw on tried-and-true methods, they are hip to the modern nuances of dating in the Internet age and add 21st-century maneuvers as they act as go-between buffers to facilitate long-lasting relationships between those who want to marry within the faith.
Though Jewish singles in Philadelphia have their pick of activities at social groups for young professionals, synagogues and Hillels, the dating scene can still be "very difficult," said Laura Oser, a Bala Cynwyd resident in her mid-20s.
"Going to a bar, you're not going to find a nice Jewish boy to marry," she said.
Instead, she found him with the help of Ben Shalom, who introduced her last March to Isaiah Scoufield, who runs a kosher wholesale foods business.
Ben Shalom "told me that he reminded her of me," Oser said. "We went out on our first date and both of us said, 'Wow, you're just like me.' "
They were engaged nine months later and will stand under the chupah in June.
This Valentine's Day marks the two-year anniversary of Ben Shalom's company, Marriage Minded Mentor. She describes herself as a coach whose goal is to get couples to the chupah successfully even if they are already in a meaningful relationship before coming to her.
"We talk about the dating process, and I continue mentoring and coaching them through the engagement process. It's a very stressful time," said Ben Shalom, 36, a Bala Cynwyd mother of five.
Though she met her husband, Gershon, at a retreat in Orlando, Fla., she credits a rabbi for helping them confirm that they had a good match and work through their engagement.
Finding true love is hard for a reason, Ben Shalom said.
"It's supposed to be this way. If it was easy, we wouldn't really value what we find. And because of the effort we have to put into it, we are really rewarded," she said.
To make the search easier, Ben Sha­lom said, it's crucial to look for someone with something in common. "We have enough differences," she said. She added that sometimes it takes a matchmaker to open someone's eyes to opportunities already in play.
"Before we look into your future, we look into your past. It's very common to overlook someone. It's likely you have met your future spouse. The network is already there," Ben Shalom said.
"People want somebody new and fresh from my black book. I tell them that before we look into my black book, let's look into theirs. Don't be so quick to say no to a person. Let's take another look."
Ben Shalom works with clients from their mid-20s to their 60s. She said she's matched 25 couples who are now married and knows of at least six more pairs who are engaged. While most of her work is within the Phila­delphia area, Ben Shalom has helped fuel romances as far away as California, Canada, Mexico, England and Israel.
Her services include phone interviews, videochats, texting and matchmaking. Mentoring fees range from $200 to $500, with matchmaking costing extra. On average, she said, her clients find what they are looking for three months to a year after starting with her.
Those who can't afford Ben Shalom's full service can read her book, Get Real Get Married — she has sold more than 500 copies since self-publishing it in May — or participate in her $99 one-day seminar, "Get Over Your Hurdles and Under the Chuppah," which she offers periodically.
Addie Lewis Klein's decision to venture into matchmaking was promp­ted, in part, by her own frustration with online dating services before she met her husband, Craig, through It's Just Lunch, a personalized matchmaking and dating service.
"I did not have good experiences on JDate because I need to meet someone in person to see if I have a good conversation with them," said Lewis Klein, a Mount Airy resident who also works part time as the campaign operations manager at the Federation.
"JDate works wonderfully for some people. When I meet people having success on JDate, I encourage them to continue," said Lewis Klein, 36, who is finishing up maternity leave after the birth of her first child. "However, some people find the profile searching exhausting and futile. Many people seem to have trouble getting from the search to an actual date. For those people, a matchmaker may be a better fit."
Matchmakers are also good for someone who is "too busy and doesn't have enough time to do the legwork on their own. It's like having a travel agent to make your travel arrangements."
Lewis Klein's own experience meeting her future husband helped shape her approach to matchmaking. "I was a bit nervous going into our blind date, but I told myself I was going to be open and engaging, and take a genuine interest in the person sitting across from me. Obviously, it worked!" she said.
She launched My Chosen One, a matchmaking service geared toward singles in their 30s, 40s and 50s, a year and a half ago. Lewis Klein usually meets her clients for coffee and asks about their friendships and connections before trying to find a match.
"People we are drawn to as friends can help us define our own search. You want your dreams to be headed in the same direction as a potential partner," said Lewis Klein, whose business is a part-time venture.
My Chosen One invites potential members to fill out an online questionnaire seeking information on background, education, occupation, salary, physical traits one finds attractive in a partner and level of Jewish observance.
Using the questionnaires, Lewis Klein ar­ranges dates and suggests conversation topics. For example, she counsels people to encourage their dates to tell stories about adventures they have gone on rather than answer dead-end questions with "yes" or "no." She gets feedback after the dates, and asks if she can share some of the comments with the other person involved.
"I encourage people not to make snap judgments. Just because you don't immediately feel butterflies in your tummy doesn't mean attraction can't grow," Lewis Klein said.
While the initial steps are free, for those who want to devote more time and effort to the search, Lewis Klein charges $2,500 to work together for a year. She has nine paying clients so far, and has gotten a number of relationships going — but no marriages yet.
Recently, she and Ben Shalom teamed up to run a matchmaking schmooze session called "Single in the City," for The Collaborative, a Tribe 12 program that offers social events for Jews in their 20s and 30s. About 20 people attended their presentation, which offered different views on how to date.
"You could call it two matchmakers, three opinions. That might be the title of our next event," joked Ben Shalom.
Despite competing for a limited field of clients, the two say they enjoy collaborating in the name of love, and they complement each other. Ben Shalom focuses on mentoring with her matchmaking while Lewis Klein concentrates on matchmaking with some coaching.
"I'll work with anybody," Ben Shalom said, "who has an interest in helping people get married and find their soulmate."