Gratitude
---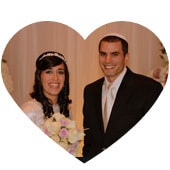 Shira & Moshe 
I honestly don't know if I would have been able to navigate my dating experience without Aleeza's help. I had gone to so many other people for advice, hoping they could give me guidance. But the truth is that Aleeza was most fit for guiding me in dating. She's serious. She will only work with you if you are seriously marriage minded. And if you aren't yet, she'll help weed through the issues to figure out what's the block that's keeping you from meeting your soulmate.I was very antsy about finding my match. I was living at home and so ready to move out of the house – I was thinking about moving to New York and getting a new job. When I told Aleeza about my frustration she said, "Great! I'm so happy you want to move out! But don't do it." She calmly explained that it was a great thing that I was ready to move out, because it meant that I wasn't relaxing, comfortable in being single. She said that my eagerness to move out of the house combined with the stability of staying at home was key to finding my husband more quickly. She was right.Aleeza wasn't just a mentor, she also became a friend. I recommend Aleeza more highly than anyone out there.
---

Hannah & Gabe 
My husband and I don't have a typical dating story, but who does? We started dating in college, but after some time we broke up so that we could grow more independently and focus on our future plans. As time went by, Gabe and I started speaking more and more. We realized that we wanted to begin dating again. We wanted a fresh start in our relationship and we wanted to make sure we had the right mentor to guide us. Since we were not a typical match, we both knew we needed a mentor and matchmaker who wasn't typical. So we decided to go to Aleeza.When I say not typical, I mean it in the best way possible. Aleeza was not interested in just making a match for the sake of it, she was truly interested in helping our relationship actualize its potential. Aleeza took time to speak with both of us individually. She made sure she understood what was important to us as individuals, and helped us figure out a direction in which we could move forward and meet in the middle. She guided us through the challenges. Aleeza's warm and sincere way of dealing with people makes the dating process more comfortable. She deals with every couple according to their needs. Aleeza doesn't just follow some formula; she truly invests herself in every match she makes and gives her all to provide guidance to a couple. If you are still looking for your soulmate you should not settle for a mediocre dating experience. Everyone is entitled to make the best out of their dating experience, and you truly get the best when you work with Aleeza. Anyone would be lucky to work with her!
---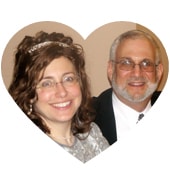 Rachelle & Larry 
Aleeza introduced me to a wonderful man, then held my hand – literally and figuratively – as he and I dated. She settled my nerves, calmed my fears, and helped me to keep moving forward. She was my first call when he proposed, and she danced with me at our wedding. I am forever grateful to have her as my mentor, and as an ongoing source of excellent advice.
---