---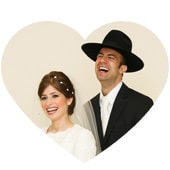 Adeena
When I think about all I have been able to accomplish, it surprises me that I have only been working with Aleeza since this summer. Before speaking with her, I felt unclear about what it would take to be successful in finding the right one. After all, it had been 10 years of dating and I hadn't met him yet. While I felt ready, it was Aleeza who married my intention to action.She truly gets to know who you are, and accepts both your frustrations and your dreams with interest and compassion. Her advice comes rooted in her own personal experience and development, as well as her keen sense about relationships. I was surprised at how soon and how well she understood me. She helps me stay accountable to my positive intention, and keeps me true to myself while helping bridge the gap between what I want and want I need. She's given me the encouragement to keep thinking, processing, and developing.It wasn't long after starting my work with Aleeza that what had felt like the most challenging part of life began to feel like the most rewarding.
Dan
While I have not had the pleasure of personally working with Aleeza, I have grown and benefited from her expertise. My fiance has been working with Aleeza since before we started dating. While conversing during dates or on the phone, my bride would often share the most recent insight she had gained in speaking with Aleeza. We would discuss the different exercises which Aleeza had assigned as "homework" in order to help develop the relationship and work towards the goal of marriage, and I found these exercises to be so interesting and beneficial that we made them "our exercises" to work on together. I am extremely grateful to Aleeza for enabling me to find my spouse, albeit indirectly. She has given us clarity by helping us recognize and understand the things which matter most to us in our relationship.

Adeena & Dan
---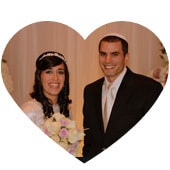 Shira
I honestly don't know if I would have been able to navigate my dating experience without Aleeza's help. I had gone to so many other people for advice, hoping they could give me guidance. But the truth is that Aleeza was most fit for guiding me in dating. She's serious. She will only work with you if you are seriously marriage minded. And if you aren't yet, she'll help weed through the issues to figure out what's the block that's keeping you from meeting your soulmate.I was very antsy about finding my match. I was living at home and so ready to move out of the house – I was thinking about moving to New York and getting a new job. When I told Aleeza about my frustration she said, "Great! I'm so happy you want to move out! But don't do it." She calmly explained that it was a great thing that I was ready to move out, because it meant that I wasn't relaxing, comfortable in being single. She said that my eagerness to move out of the house combined with the stability of staying at home was key to finding my husband more quickly. She was right.Aleeza wasn't just a mentor, she also became a friend. I recommend Aleeza more highly than anyone out there.

Shira & Moshe 
---
Hannah
My husband and I don't have a typical dating story, but who does? We started dating in college, but after some time we broke up so that we could grow more independently and focus on our future plans. As time went by, Gabe and I started speaking more and more. We realized that we wanted to begin dating again. We wanted a fresh start in our relationship and we wanted to make sure we had the right mentor to guide us. Since we were not a typical match, we both knew we needed a mentor and matchmaker who wasn't typical. So we decided to go to Aleeza.When I say not typical, I mean it in the best way possible. Aleeza was not interested in just making a match for the sake of it, she was truly interested in helping our relationship actualize its potential. Aleeza took time to speak with both of us individually. She made sure she understood what was important to us as individuals, and helped us figure out a direction in which we could move forward and meet in the middle. She guided us through the challenges. Aleeza's warm and sincere way of dealing with people makes the dating process more comfortable. She deals with every couple according to their needs. Aleeza doesn't just follow some formula; she truly invests herself in every match she makes and gives her all to provide guidance to a couple. If you are still looking for your soulmate you should not settle for a mediocre dating experience. Everyone is entitled to make the best out of their dating experience, and you truly get the best when you work with Aleeza. Anyone would be lucky to work with her!

Hannah & Gabe 
---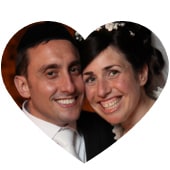 Yael Tzvia
Not only did Aleeza make the initial suggestion – planting the seed for me to go out with my husband – she was there from the first date on, throughout our dating process. She helped me clarify for myself what things really mattered to me, and what things were distracting me from seeing what was right in front of me.After dancing together at my wedding in Jerusalem, she has been an ongoing source of encouragement and support through our first year of marriage, helping me learn how to grow into a good wife and how to build a strong foundation for our marriage. She continues to provide both specific ideas and global concepts that are always helpful and practical.

Yael Tzvia & Chaim Dovid 
---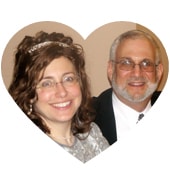 Rachelle
Aleeza introduced me to a wonderful man, then held my hand – literally and figuratively – as he and I dated. She settled my nerves, calmed my fears, and helped me to keep moving forward. She was my first call when he proposed, and she danced with me at our wedding. I am forever grateful to have her as my friend, as my mentor, and as an ongoing source of excellent advice.wedding in Jerusalem, she has been an ongoing source of encouragement and support through our first year of marriage, helping me learn how to grow into a good wife and how to build a strong foundation for our marriage. She continues to provide both specific ideas and global concepts that are always helpful and practical

Rachelle & Larry 
---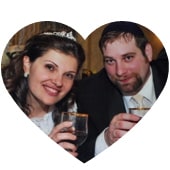 Alina
After speaking with so many people who didn't understand me and tried to push me in directions that weren't right for me, I was relieved and excited to work with Aleeza. She and I were on the same wavelength in terms of dating. She supported me finding my soulmate and empowered me so I could made good decisions. I only dated people that were real marriage material. I am so thankful that she understood my needs. It was a bonus that she was our matchmaker
too!
Adam
Aleeza and Gershon have provided me with both guidance and support. Guidance to know that I was not ready to find a wife, and support when I knew that it was time to join in life with my bride. Gershon and Aleeza saw what I did not see – they knew that I needed to work on myself before I could bring someone else into my life and raise my own family. I thank G-d and the Ben Shalom family for all that they have given me.

Alina & Adam 
Clients Speak
---
I was thinking about what makes you and your marriage minded mentor model different from others: you are aware of the systems, and you help navigate, but you help the individual be optimistic and realistic at the same time, and be true to what s/he is seeking. You are the first person who has given me dating advice that did not tell me to plaster my face with more make-up, and to stay true to myself! You are also hopeful. There are so many people when I tell them my age, they frown and feel powerless, and then I'm the one comforting them, and giving them hope. I really like what you said about this being the end of my search. Thank you!

L.R.
---
I followed up with a client to try and set them up. Here was the reply:
Thank you for thinking of me. However, I'm not available because I am in a relationship. I plan to consult with you. I look forward to working with you. Your help has been amazing thus far and I brought it with me into this relationship. I look forward to speaking with you soon.

D.B.
---
It was so nice meeting you last week! Thank you for speaking with me. I read your book and loved it — there are so many helpful pointers and good reminders (especially for someone like myself who is just starting the dating process). I hope that we can be in touch soon!

J.G.
---
Hi! Remember when I accidentally ended up dating two guys, and I called you totally lost because I really liked the second guy? Well, I called the second guy and told him that I had to follow up with the first guy, but that I would be in touch if it didn't work out (as you so wisely recommended.) And… it didn't work out with guy #1. So, I called guy #2 and asked him to please take me out again. I'm so grateful he agreed, understood completely, and took me out. I'm writing to tell you, we're getting married! Thank you for your sage advice and kind listening ear! I will recommend you to anyone who's in a pickle about dating and needs someone to reason with them! With happiness and gratitude.

H.K.
---
Aleeza, seriously, thank you for being here for me and coaching me through this. I thought I didn't need much help… boy was I wrong! All of your advice so far has been very real and practical, and it has gotten me to a place I don't know I'd be without it. I think i could have easily stayed in "processing mode" with him and have ruined things.If he is the right one, it will all work out… and if he isn't, this is good practice for Mr. right.

S.E.
---
Hi Aleeza,
Thank you for responding to me so positively. It's so rare these days to meet anyone positive when it comes to my queries on life and marriage. I appreciate your reply very much. Best wishes.

K.T.
---