Beating the odds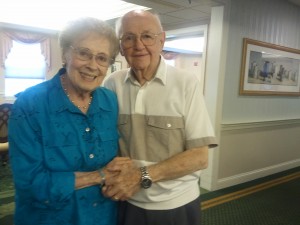 Did you know that 50% percent of first marriages, 67% of second and 74% of third marriages end in divorce? (http://www.divorcerate.org/) This statistic, combined with the average lifespan in the USA (75.6 years for men and 80.8 years for women), makes this story remarkable.
On September 26, 1982 – almost 30 years ago to the day – Aunt Shirley and Uncle Bob were engaged. This was a second marriage for them both. I heard today that Uncle Bob left this world just after Rosh Hashanah, this past Wednesday the 19th of September, 2012. While my heart is sad, this true love match was an inspiration to me and will forever remind me of what it takes to have a loving relationship and to live vibrantly together.
Aunt Shirley said it best: "He was my prince, my sweetheart, my everything. Without him there is a void, an empty hollow feeling." Her message is clear – she cherished and valued the moments she had with her sweetheart, and she didn't take any of them for granted. Although she has an empty feeling now, I doubt she has any regrets.
This empty hollow feeling should be a part of being single at any age and any stage. We are meant to be one with our soulmates. This longing for one another draws us together, keeps us together and helps us to live life embracing the moments together. May Uncle Bob's memory be a blessing, and may we be inspired to find, keep and cherish our soulmates.